WELCOME TO JUDGEBRUNNER.COM
Welcome to Judge Jennifer Brunner's campaign website. Judge Jennifer Brunner is one of 8 elected judges of the Ohio Tenth District Court of Appeals. She was elected in November 2014 to an unexpired term, besting a Governor's appointee, and was reelected without opposition in 2016 to a full, 6-year term. We look forward to your involvement with our campaign activities and Judge Jennifer Brunner's public service to Ohio as a state appellate court judge.
IN THE NEWS
For full text of other stories in news feed, please click on article title.
For earlier news stories, please click here.
THE LATEST: Texas Adopts Rule to Let Lawyers from Other States Provide Pro Bono Legal Assistance to Harvey Victims - Ohio Lawyers Encouraged to Participate
Ohio Supreme Court Chief Justice Maureen O'Connor is urging Ohio lawyers to consider providing pro bono assistance to Hurricane Harvey victims.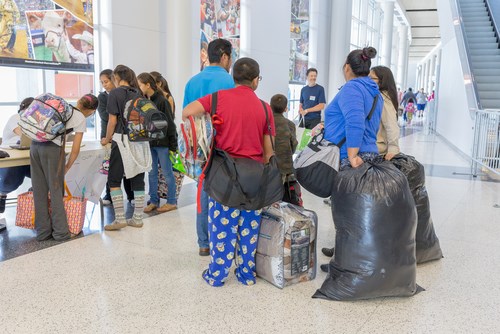 The appeal comes after the Texas Supreme Court issued an emergency order allowing out-of-state attorneys to practice in the state temporarily to provide legal support to victims.
"Ohio attorneys are known for their pro bono work," said Chief Justice Maureen O'Connor. "I encourage them to take a look at the program Texas has put in place in the wake of this tragedy."
Saundra Brown, the manager of the disaster response unit at Lone Star Legal Aid, says the need for legal assistance "is going to be huge."
Lawyers will be needed for disaster appeals with the Federal Emergency Management Agency, to help people secure temporary housing, to get money for home repairs, and to deal with insurance claims, Brown told the American Bar Association Journal.
Out-of-state lawyers can help with the FEMA appeals, which are administrative in nature by visiting the group's website. Additional help for legal aid and volunteer lawyers responding to disaster is at the National Disaster Legal Aid Resource Center.
The ABA Young Lawyers Division is running disaster legal aid hotlines for Texas and Louisiana. The Texas number is (800) 504-7030, and the Louisiana number is (800) 310-7029. The division's Harvey relief web page has information on volunteer recruitment.
#Hurricane Harvey, #natural disaster, #legal aid, #Texas, #attorneys, #Ohio, #pro bono
News
Wednesday, August 24, 2016 3:48 PM
From the Columbus Dispatch, August 23, 2016
A man sentenced to 35 years in prison for his involvement in the torture of a couple in a Hilltop basement will have his sentence reduced by 14 years after the Franklin County Court of Appeals overturned his rape convictions.
---
Friday, August 5, 2016 3:53 PM
From Court News, August 5, 2016

Candidates can't be required to list words such as "for" in their campaign materials to clarify for voters that they don't currently hold the office they seek, an Ohio appeals court ruled. Judicial elections, however, with differing public interests, are still subject to Ohio Supreme Court rules prohibiting use of a title not currently held.
---
Saturday, July 16, 2016 4:03 PM

From the Akron Legal News, July, 16, 2016

The 10th District Court of Appeals recently affirmed the dismissal of drug charges against a Columbus man.

The indictment referred to a compound known as MDPPP, a synthetic stimulant, referred to as a "controlled substance analog" under the law.

The court of appeals ruled that, by failing to incorporate the definition of "controlled substance analog" into R.C. 2925.01, the General Assembly excluded that definition from applying in the context of criminal drug offense statutes.
---
Thursday, July 7, 2016 4:08 PM

From the Columbus Dispatch, July 7, 2016

Editorial, July 7, 2016

Dale Johnston is an innocent man. The case against him in the grisly 1982 murders of his stepdaughter and her fiancé was shaky from the start. But he served nearly seven years on death row before being freed on appeal in 1990. It turns out the crime scene was never properly secured and Johnston's statements to police were coerced during an eight-hour police interrogation.

The Franklin County Court of Appeals again shot down Johnston's plea for a finding of innocence. Judge Jennifer Brunner dissented, disagreeing with her colleagues who cited a new Supreme Court ruling to block Johnston's pursuit of an innocence ruling.

The man is 82. He lost his family. He lost his freedom. But it appears the state is waiting for Johnston to die before exonerating him. That's shameful.