News
Tuesday, June 8, 2021 10:00 AM
View video of virtual news conference here.
Tuesday, June 8, 2021
FOR IMMEDIATE RELEASE
Contact: Chris Davey, 614-886-8658, chris@daveygroup.us
Justice Jennifer Brunner announces she will run for Chief Justice in 2022
'Steady and principled leadership of the state's highest court is essential'
COLUMBUS - With a vision for shaping the administration of justice to improve the lives of all Ohioans, Justice Jennifer Brunner of the Supreme Court of Ohio today announced that she will run for Chief Justice of Ohio in the 2022 election.
"I'm running for Chief Justice because justice matters for every Ohioan. Steady and principled leadership of the state's highest court is essential to helping Ohioans realize justice in their everyday lives," Brunner said at a virtual news conference. "I know that courts can do good things for people—protect their health, safety, and welfare—with fairness, equality, and respect. And I am committed to doing this every day now and as Chief Justice of the Ohio Supreme Court."
Brunner was elected as an Associate Justice in November 2020, defeating incumbent Justice Judith French 55.3% to 44.7% garnering 2.69 million votes statewide.
---
Tuesday, March 2, 2021 11:30 PM
Black History Documentary Highlights 'Prejudice and Progress'
By Anne Yeager | February 25, 2021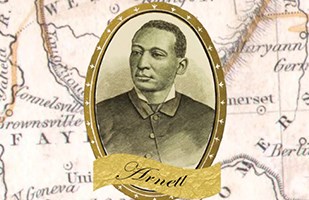 The Ohio Supreme Court releases the first of a series of videos in observation of Black History Month.
In observance of Black History Month, the Ohio Supreme Court is launching the first video of a documentary series exploring racial injustice and the legal journeys of African Americans in our state.
The premiere video features the work of pioneering state Rep. Benjamin Arnett and his battle against the "Black Laws," a Northern version of the South's Jim Crow statutes that denied free Black Americans their full rights in society.
As the series, "Prejudice and Progress: A History of Racial Justice in Ohio," develops, materials will be created by the Supreme Court's Civic Education Section to adapt the short documentaries for classroom instruction.
The first video – nine minutes long – is entitled "Knock the Monster in the Head: Benjamin Arnett versus The Ohio Black Laws." The title is taken from Arnett's reference to the discriminatory laws in an impassioned speech to the Ohio General Assembly in 1886.
The series will take a look at people and issues from the past, some chapters well-known and others lesser-known.
"Our aim is to ensure that the next chapters unfold intelligently and fairly, with a keen knowledge – and acknowledgement – of our past," Chief Justice Maureen O'Connor said of the documentary series.
"The story of African American rights and equality in Ohio is a story without a closing chapter," said Justice Melody Stewart, who appears with Chief Justice O'Connor to unveil the series.
"We still have a lot of work to do," Justice Stewart said. "This series of short documentaries is intended to educate all citizens of our state about the battles for racial justice that have marked our shared history."
The Arnett installment is narrated by retired Judge Ronald Adrine, who served on the bench of the Cleveland Municipal Court for 36 years and chaired the Ohio Commission on Racial Fairness, among many other law-related endeavors. In 2018, he became the first jurist-in-residence at his alma mater, the Cleveland-Marshall College of Law.
The voice of Arnett is portrayed by Columbus-based actor and artist Rory Rennick.
---
Friday, February 12, 2021 8:02 PM
Judicial Fundraising Period Closes March 2, 2021 - How you can participate
Justice Jennifer Brunner, former judge of the Tenth District Court of Appeals, was elected to a full term as justice of the Ohio Supreme Court on November 3, 2020. She took office January 2, 2021 and is now serving as Ohio's 162nd justice of the state's highest court. In her campaign she raised in excess of $1 million dollars during a pandemic and won her election against an incumbent justice by more than 10 points, outperforming former President Trump by 8 points. She is thrilled to be serving Ohioans in this new judicial capacity.
You can help her celebrate her victory by attending a virtual event and help her campaign committee close out the judicial fund raising period ending March 2, 2021. Judicial candidates may no longer accept contributions to their campaign committees after 4 months following the general election. They cannot raise funds until they run again for election.
There are two great opportunities to participate in virtual events and help us celebrate Justice Brunner's special victory on November 3, 2020.
Virtual Event with Justice Brunner
Thursday, February 18, 2021
5:00 - 6:00 p.m.
Interested? Contribute here.
Virtual Jazz Concert with Justice Brunner
featuring the Laura Camara Quartet
Thursday, February 25, 2021
5:30 - 6:30 p.m.
Interested? Contribute here.
---
Saturday, December 19, 2020 6:38 PM
Please Join us for Justice Brunner's Investiture Ceremony
Please join us for Justice Jennifer Brunner's Virtual Investiture Ceremony
Sunday, January 3, 2021, 4:00 p.m.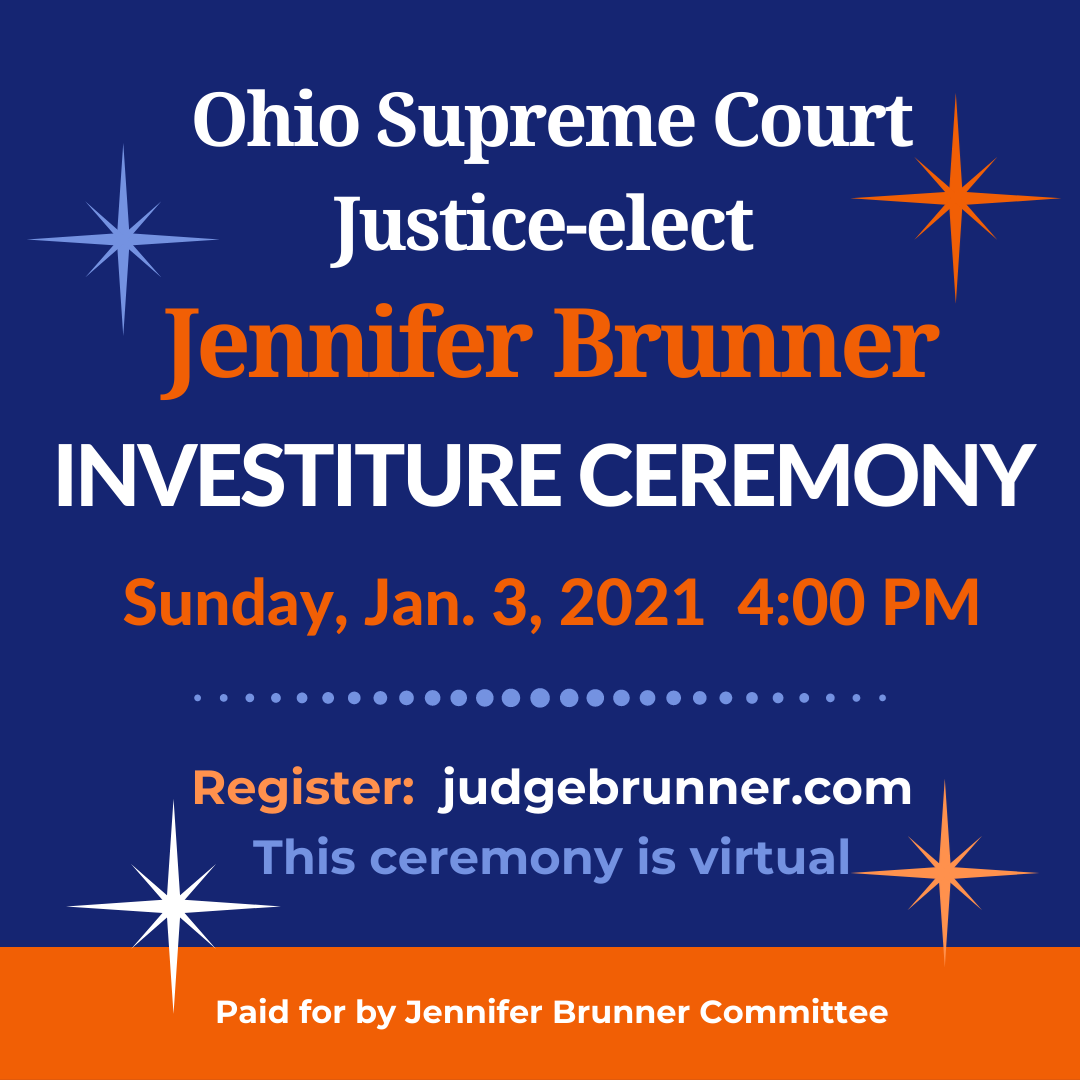 ---
Friday, November 27, 2020 8:51 PM

THANK YOU.
It's official. Yesterday, the Ohio Secretary of State certified Ohio's election results. Our collective work in this race for the Ohio Supreme Court created a bright spot for Ohio. We defeated an incumbent justice. And in doing so we broke Ohio's gerrymandered Congressional districts. Take a look: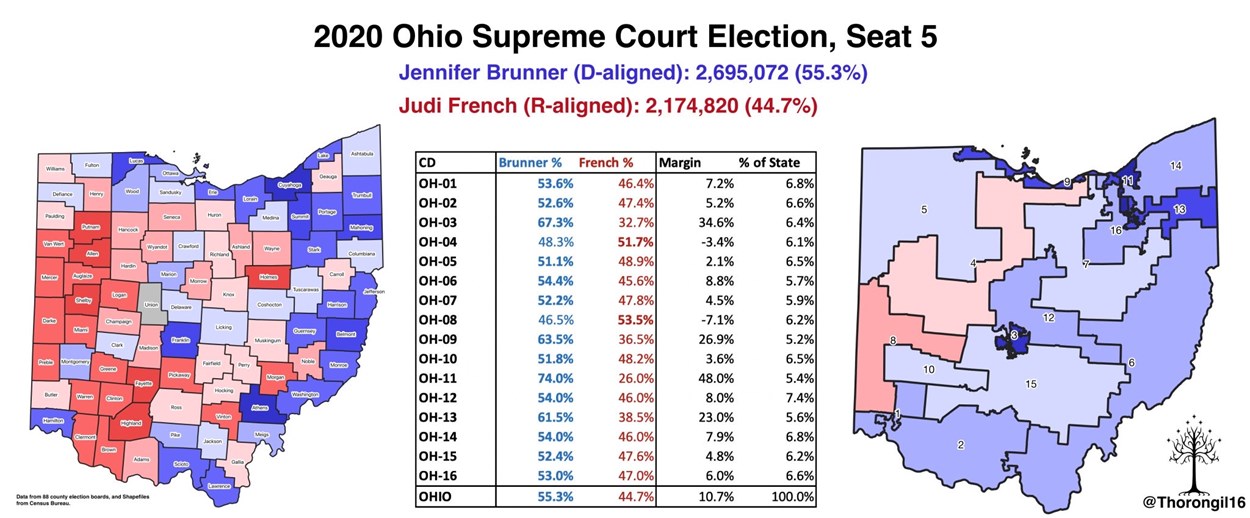 Sign Up for Updates
Thanks for signing up!