News
Saturday, December 19, 2020 6:38 PM
Please Join us for Justice Brunner's Investiture Ceremony
Please join us for Justice Jennifer Brunner's Virtual Investiture Ceremony
Sunday, January 3, 2021, 4:00 p.m.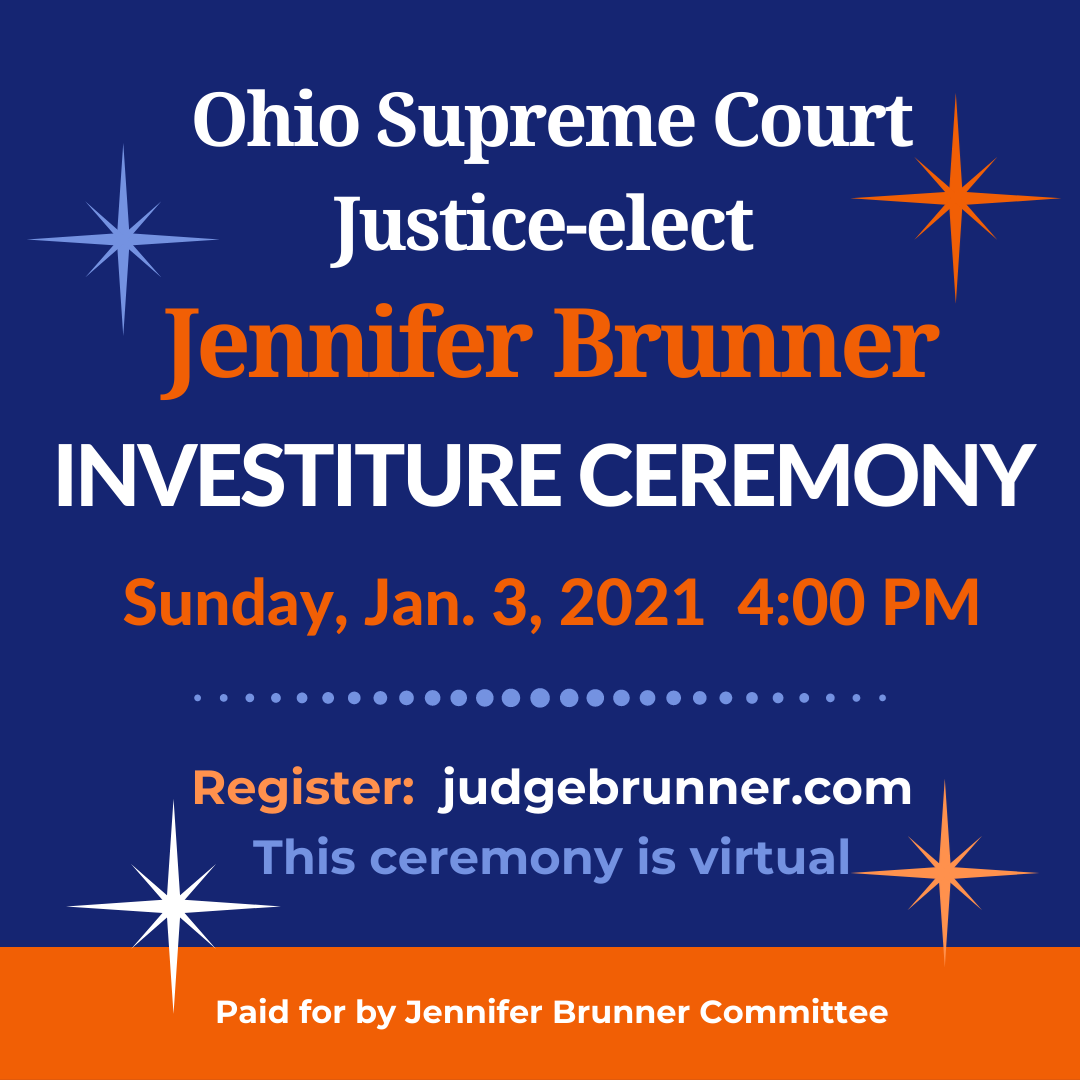 ---
Friday, November 27, 2020 8:51 PM

THANK YOU.
It's official. Yesterday, the Ohio Secretary of State certified Ohio's election results. Our collective work in this race for the Ohio Supreme Court created a bright spot for Ohio. We defeated an incumbent justice. And in doing so we broke Ohio's gerrymandered Congressional districts. Take a look: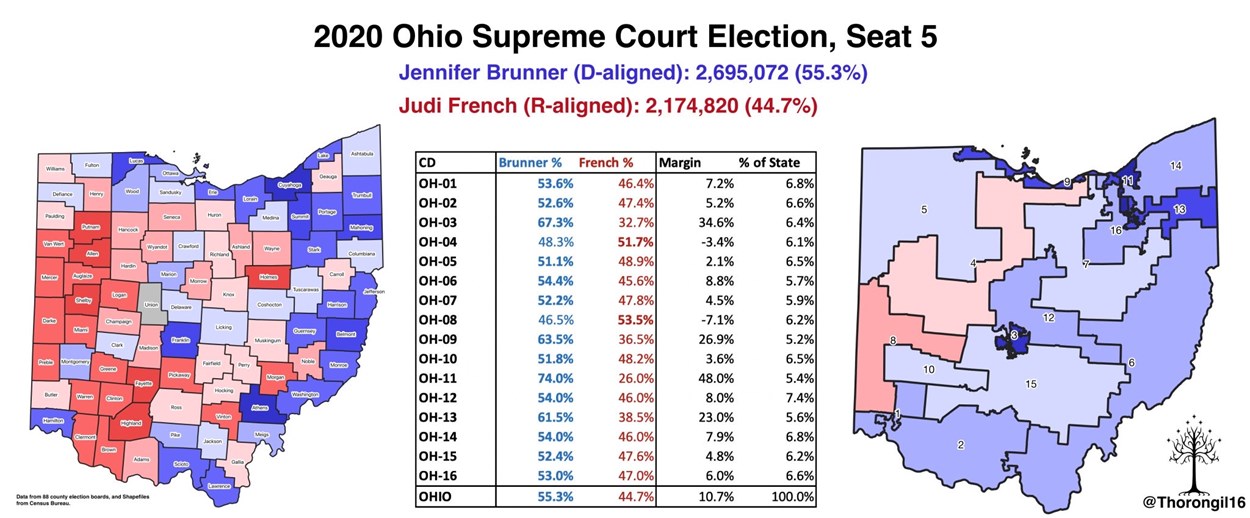 ---
Friday, October 30, 2020 8:33 AM
Our television ad is up and running throughout Ohio. Take a look, and please vote! Speak with your vote--it's your loudest voice.
Election Day is Tuesday, November 3rd. Polling places in Ohio are open from 6:30 a.m. through 7:30 p.m. As long as you are in line by 7:30 p.m., you can vote.

Information about voting is available on my campaign website. Early voting is underway in Ohio! You can vote early in person at your Board of Elections. If you've already received an absentee mail-in ballot, return it in person to your local board of elections (a relative can return it for you, too, and every board has a drop box) or mail it with a postmark (ask the post office to hand stamp it) no later than Monday, November 2nd.

You can get email updates here, contribute here, or ActBlue link is here.
---
Wednesday, October 28, 2020 3:43 PM
For Immediate Release:
Wednesday, Oct. 28, 2020
CONTACT: Kirstin Alvanitakis, kirstin@ohiodems.org, 919.923.4055
The complaint also calls on Justices Sharon Kennedy and Judi French to adhere to their "clean campaign pledge," disavow the advertisement and publicly call on the RSLC to discontinue airing it.
"If Justices Sharon Kennedy and Judi French are going to make 'clean campaign pledges,' then they are obliged to adhere to them," said Ohio Democratic Party Executive Director Greg Beswick. "This is straightforward -- the ad makes false statements, has been judged to be 'misleading' by an independent fact checker and impugns a sitting appellate judge and candidate, along with two current members of the Ohio Supreme Court. The Ohio State Bar Association must take action, and Kennedy and French must publicly disavow this ad and demand it be taken down."
###
Paid for by the Ohio Democratic Party (
http://ohiodems.org
) and not authorized by any candidate or candidate's committee.
---
Tuesday, October 27, 2020 4:02 PM
Randy Ludlow - The Columbus Dispatch
Published 1:23 p.m. ET Oct. 27, 2020 | Updated 2:56 p.m. Oct. 27, 2020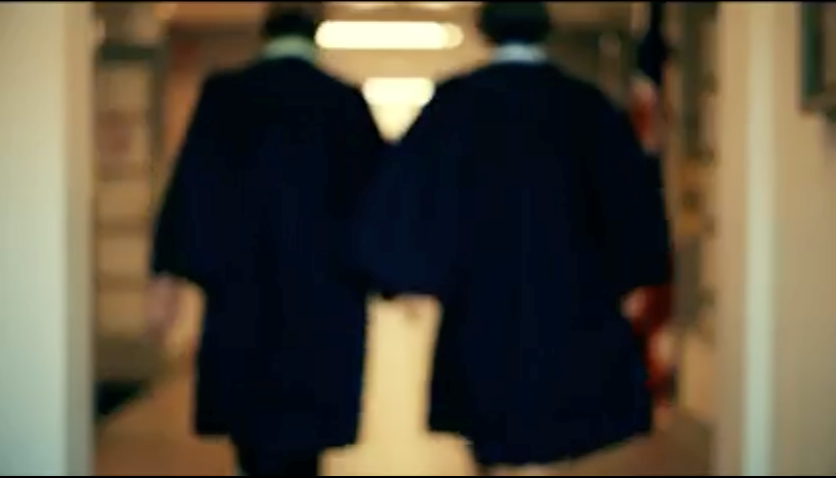 The ad: A 30-second commercial from the Republican State Leadership Committee, a tax-exempt nonprofit that spends millions of dollars nationally to support Republicans running for state judicial and down-ticket offices, that attacks Ohio Supreme Court candidate Jennifer Brunner, a Democrat.
Analysis: The implication that Brunner, who is running against French, freed a child predator is misleading. The ad concerns her ruling in a 2-1 10th District Court of Appeals decision involving Lawrence Dibble, a former teacher at Wellington School in Upper Arlington. He pleaded no contest in 2013 to 17 felony counts of voyeurism and was sentenced to four years in prison.
Brunner and Judge Gary Tyack, a Democrat running against incumbent Republican Ron O'Brien for Franklin County prosecutor, ruled in 2017 that police conducted an "unreasonable search" of Dibble's home for incriminating videos of girls undressing.(O'Brien also is using the case to attack Tyack in a TV commercial.)
The appellate decision was not about the prison sentence of Dibble, who was freed three years into his sentence by a trial court judge and placed on house arrest while his case was on appeal.
Sign Up for Updates
Thanks for signing up!